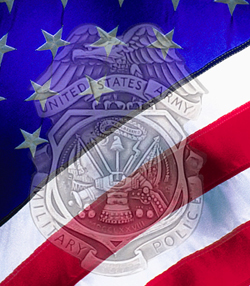 Buy
Military Police
Security Officer
Logo Merchandise
Listen to
Live radio.
==Best viewed with Internet Explorer set at 800x600 pixels screen resolution==
Mission Statement:Military Police Corps officers lead units in performing the five major functions associated with the branch -- area security; maneuver and mobility support; police intelligence operations; internment and resettlement; and law and order.
---
---
Crimes can happen anywhere and the Army is no exception. Fortunately, the Army has their own law enforcement and security specialists to handle crimes committed on Army property or that involve Army personnel. Military Police protect lives and property on Army bases by enforcing military laws and regulations, as well as controlling traffic, preventing crime and responding to emergencies.
Military Police are primarily responsible for providing support to the battlefield by conducting area security, police intelligence operations, internment and resettlement, maneuver and mobility support, and law and order operations. Some of your duties as a member of the Military Police team may include:
Patrolling areas on foot, by car or by boat.

Interviewing witnesses, victims and suspects in the course of investigating crimes.

Collecting fingerprints and other evidence.

Arresting and charging criminal suspects.

Training and working with police dogs.

Testifying in court.

Guarding entrances and conducting traffic control.

Job Training

Job training for Military Police consists of nine weeks of Basic Training, where you'll learn basic Soldiering skills, and eight to 12 weeks of Advanced Individual Training and on-the-job instruction, including practice in police methods. Part of this time is spent in the classroom and part in the field. Some of the skills you'll learn are:
Military and civil laws and jurisdiction.

Crime and accident investigation procedures.

Evidence collection procedures, including fingerprinting and suspect questioning.

Use of firearms.

Traffic and crowd control procedures.

Arrest and restraint of suspect.
---
---
Here is a Picture of the MP Oath!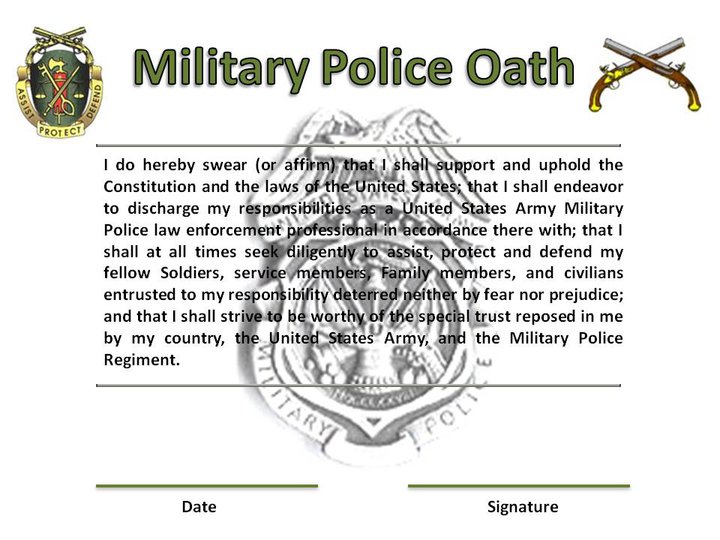 ---
---
Connect with Former & Current Military Police Officer's around the globe via my guestbook,or sign the guestbook & maybe a former officer will notice it & connect with you,or just leave your comments about my page.Thanks and have a good day/night,Mark.
View my Guestbook
---
---
---
---
Protect yourself,
Using Judo
V
Judo Video
---
---
M9 Range
---
---
Helpful Links Below!
Here are some good helpful links I have found on the net.Here is the VA Homepage. Here is a good source to buy some Military Police Gear. Try and find a active duty soldier here Military Connections. Here is a good source to get info about your next base assignment Army Military Bases. Find a Former Military Buddy Here. Check out this source Military/Veterans Websites. or click here for some info at Military Data Resources. Find daily military news here Military Headlines.
Go to the
MP Association
and add your name to the registar.
Or order a variety of MP Logo Merchandise
here.
---
---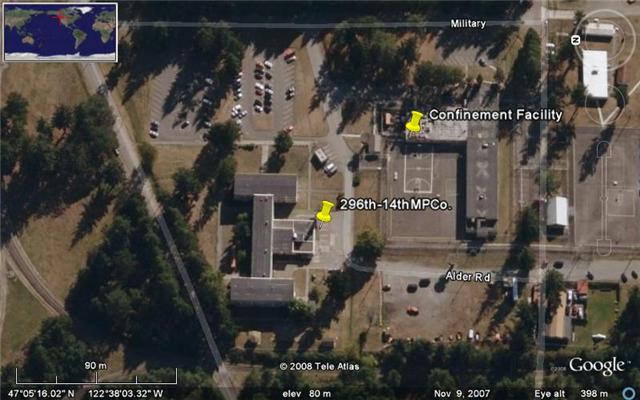 Click On Picture above For Bigger picture!
---
---
Hi my name is Billy Mark Lockwood,I started my military career in May of 74.I joined up for the army at the induction center in Fresno, California. After basic (HHC 3D Bn 3D Bde-Fort Ord,California),Arial Veiw of Fort Ord. & AIT at Fort Gordon,Georgia Arial View of MP training area. I was assigned to the 14th MPco at Ft.Lewis,Wa. I worked as a 95B a Military Policeman (Now a MP 31B) and 95C a Correctional Specialist(Now called a Internment/Resettlement Specialist 31E),I was assigned to the 14th for about a year.The 14th was responsible for operating the confinement facility(stockade)where I served as a correctional specialist.I was then transfered to the 296th which was a line duty(White Hat)unit where I served about 16 months.I worked @ Fort Lewis for about 6 months and about 3 months @ the MP station @ Madigan hospita,but I spent the majority of my time in the 296th at the 296th MP detachment at Vancouver Barracks at Fort Vancouver in Vancouver,Wa. I was then transfered back to the 14th to finish out my time.I now live in the beautiful town of Ardmore,Oklahoma.
---
---
These are the fellow Military Policeman I had the pleasure to serve with in the 296th MP Detachment at Vancouver Barracks in Vancouver, Washington:
SGT Kevin Poor

SP/4 Tony Ampania(T),My roommate & friend.

PFC Danny Durocher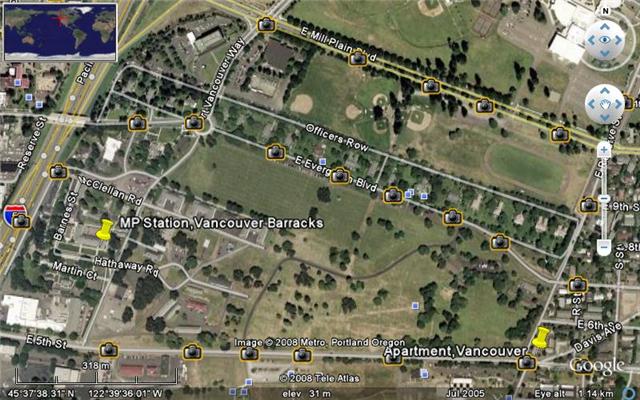 Click On Picture above For Bigger picture!
---
---
I took my basic training at Fort Ord in May of 1974.This fort was deactivated back in 1994.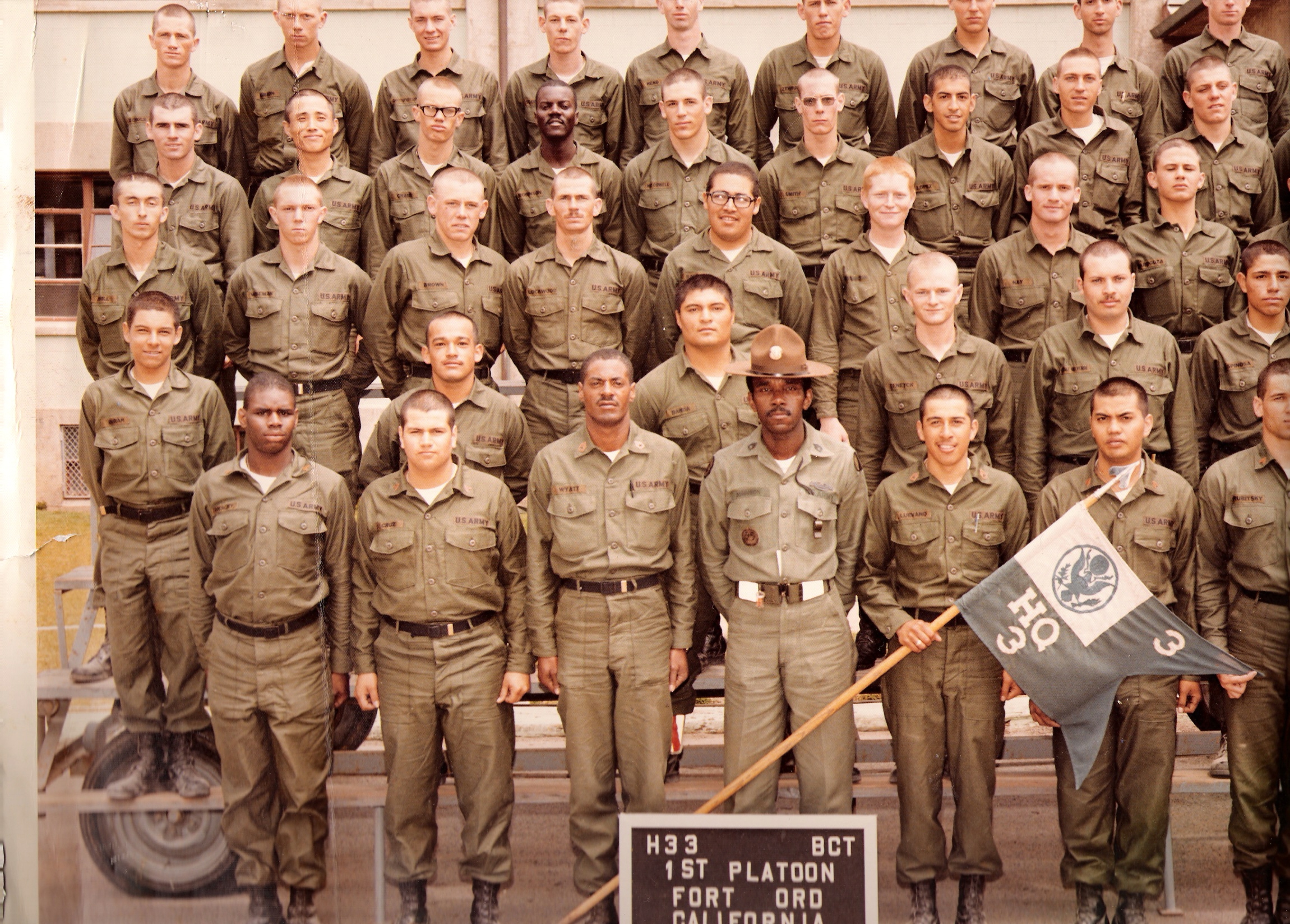 Click On Picture above For Bigger picture!
"T" here is a picture of your truck & Andy's & my car taken back in 1976 at the house in Orchards,Washington we shared with Kevin & Danny.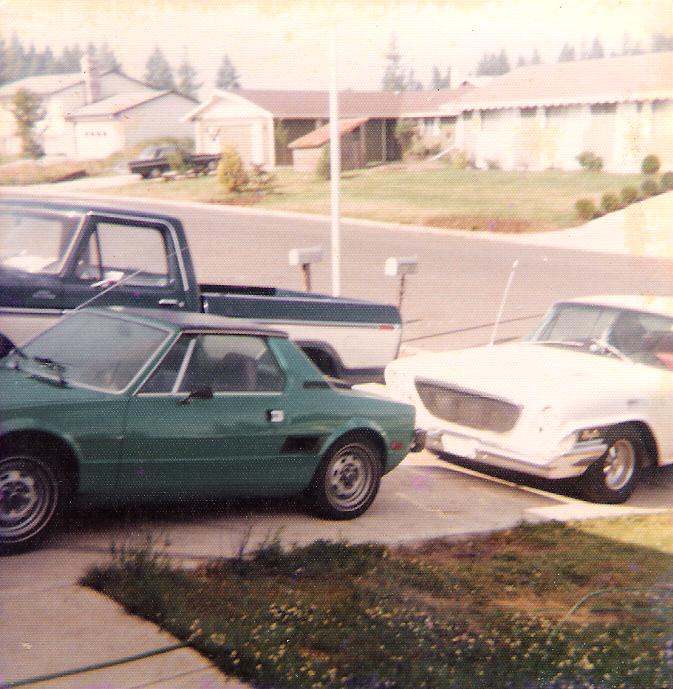 Click On Picture above For Bigger picture!
---
---
Games to Play
---
---
| | | |

| | | |
Copyright © 2005-2017,Military Police One,All Rights Reserved.
This page created & updated by: Billy Mark Lockwood
---
---
Winstar World Casino
Concert Calender
Riverwind Casino
Concert Calender